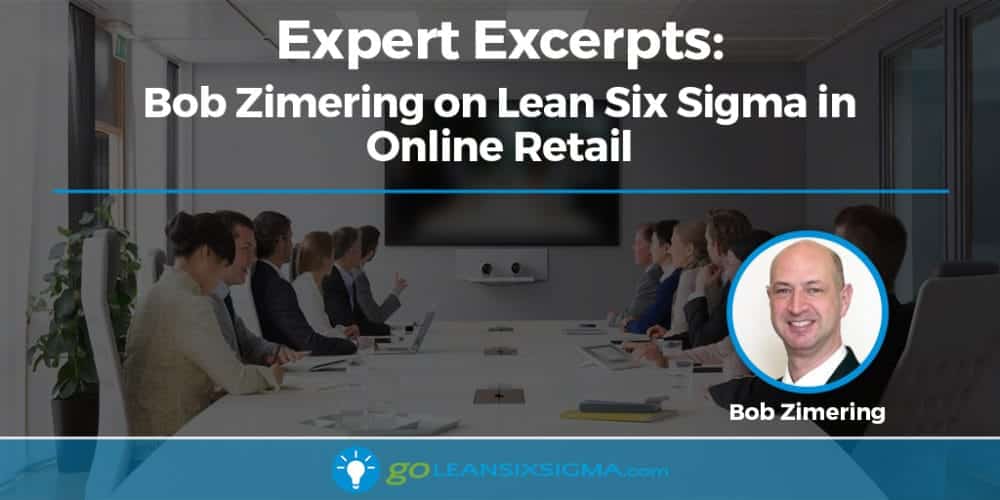 Whether you're just starting your Lean Six Sigma journey, or you're in the middle of improving a process, guidance from Experts can help make your efforts easier – and more successful! In this Expert Excerpt, we interview Expert Bob Zimering, who shares key insights to being successful with Lean Six Sigma in Online Retail.
Bob Zimering is Sr. Manager, World Wide ACES (Amazon Customer Excellence System) at Amazon, leading transformational projects to deliver cost, quality, safety, and environmental impact reduction improvements across Amazon global fulfillment processes. Zimering has been a Lean Six Sigma deployment leader and Master Black Belt for 15+ years in the Aerospace sector prior to Amazon, leading global teams at Raytheon, Textron, Honeywell and BFGoodrich.
What advice do you have for someone who is getting started with applying Lean Six Sigma in online retail?
Like all new applications of Lean Six Sigma, it's critical to first walk the Gemba and see how things really get done, talk with your stakeholders to understand their pain points, and then observe regular leadership metrics reviews to understand what drives resource investments. Beyond that, understanding the magnitude of seasonality is critical. Online retail operations are up to 35% higher in Q4 than the rest of the year, and many processes that are stable through Q3 will go completely out of control and need unique countermeasures heading into Q4. For example, rail transportation may be inexpensive, and our carrier never misses a delivery promise throughout the year, only to suddenly spike in cost in Q4 because so many different retailers are all trying to get on board.
Understanding the magnitude of seasonality is critical.
Delivery lead times can triple, and we found that on-time delivery promises become unreliable with many carriers just because they are struggling to meet demand. Supply side is the same way; some product lines like electronics can spike 70% or more for "hot" items. No one wants to get a comment that we didn't deliver a grandchild's favorite present because the item went out of stock or because the rail carrier ran into a snag and missed the promise date. So we use Lean Six Sigma to anticipate these extreme fluctuations and develop robust countermeasures. We work hard, using deep dive statistics to predict market trends and stock up way early, and we do cost modeling on alternate delivery channels to line up alternatives.
What are some common mistakes you see people making when applying Lean Six Sigma in online retail?
One curiosity is the use of classic Lean Six Sigma terminology to mean slightly different things in our industry that confuse and may frustrate a Lean Six Sigma purist. For example, we talk about Value Stream Mapping (VSM) for both true VSM and straight Process Mapping. Some leaders simplify Cycle Time and Takt Time because we strive to match them as closely as possible. The common mistake is trying to apply those textbook definitions or problem solving methods rigorously to this industry without understanding why we've modified them.
The right solution to the wrong problem is worse than no improvement and can discredit an outside Lean Six Sigma expert in a heartbeat. The other big mistake is not balancing our expectation for data-based decision making versus analysis paralysis. Our industry moves at a rate and with a magnitude of data that most experts aren't used to, so we need to apply the right tools efficiently and dynamically. We just don't have patience for textbook analysis that someone might want to do to show that we've followed the process to the letter but not critical to the goal. We also prioritize ruthlessly and stop activity that is incrementally value added but not driving big decision-making. These aspects can be a challenging learning curve to people new to the industry.
The right solution to the wrong problem is worse than no improvement.
What differences do you see applying Lean Six Sigma in online retail versus your experience in other industries?
The biggest difference is real buy-in to continuous improvement problem solving. People have an entrepreneurial mindset and we have the most positive enthusiasm to making things better that I've ever seen. My experience is primarily in Aerospace and Defense, which is characterized by an awesome sense of purpose, leading edge technology, and deep resources for critical programs. But the internal bureaucracy in that industry stops people from even trying simple fixes that could be tried inexpensively and safely because of a borg-type mindset.
People need to feel accountable and excited by not just their day-to-day work but really by business success in order to feel ownership and be innovative. We were able in my prior company to launch a broad simplification campaign as part of Lean Six Sigma but it took senior leadership direction and drive. We were able to shift the culture successfully but it took terrific effort and a little luck. Online retail is just much more obsessed over the Customer and people feel the effect when they take the initiative to try something new. Leadership here is also much more encouraging of people trying and learning instead of reacting negatively when things don't work.
We were able to shift the culture successfully but it took terrific effort and a little luck.
Another surprise is how well Lean Six Sigma works in online retail because the principles were born from high volume semiconductor chip and automotive manufacturing, and are based primarily on waste elimination and variation reduction methodology. So, in addition to the entrepreneurial mindset that fosters continuous improvement, the basic principles and prior work actually apply very well.
One counterintuitive challenge, however, is the conflict between the Lean Six Sigma principles and Customer expectations. What I mean is that we want to offer Customers the maximum purchasing and delivery flexibility and maximum product selection options. We've introduced multiple different ways to get what you want in the way most convenient to you, and we have the biggest catalogue in the world with over ½ billion different items according to one source and we're adding 30,000 items per day on average. This is intentional and every effort to reduce those options to Customers goes against our company culture so it's tough to preach Lean Six Sigma in some situations. Our Lean Six Sigma experts' job would be much easier if we only sold red toasters, available in 3 days, but that's not who we are as a company.
What's something exciting that you're currently working on?
We're revamping Statistical Process Control across our entire global fulfillment network. Our team is leading this effort with a core tiger team and leveraging Operations leaders in each primary process path. This is super challenging because our volume is so high that we have to leverage internal cloud capability to hold all the data. The standard Western Electric rules also won't help because we're looking to give managers real situational insight, not just send an email with a red flag.
We're going to leverage our global best practices and benchmark documents to give managers proven response plans and we're going to explore internal, automated problem solving capabilities. This proactive alert system will affect over 300,000 associates, and reduce process control effort by an order of magnitude, freeing those associates' time to deliver product even faster. The details are confidential, of course, but you can imagine some of the ideas we're going to try by looking at recent product offerings.
What's your favorite application of Lean Six Sigma in your personal life (away from work)?
I've heard of many Lean Six Sigma experts that 5S their kitchen or shadow board their garage, I think we all get that mindset and can't help trying to make things more efficient where we see waste. My favorite application of Lean Six Sigma is using a decision matrix for a big personal purchase like a home. The usual criteria are easy to line up but people get emotionally attached to an offer because of some subjective, and easily changeable detail like a fireplace or nice garden. When you use a decision matrix you can avoid making a multi-$100k decision based on something that could be changed for under $1,000. Unless, of course, you "just like one." Then you should absolutely go with your gut and use the matrix as compost.
Have a question for Bob? Please feel free to ask in the comments below.